There are many routes
to satisfy advanced mountain climbers!
Mt. Okue
Sobo Katamuki Quasi-National Park
At an altitude of 1,644m, Mt. Okue is the featured mountain of the Sobo Katamuki Quasi-National Park. The area offers extensive cliffs, natural forests, and a variety of trails for climbers. Many rare plant species can be found along the trails and visitors can enjoy the magnificent colors of every season.
Known as "Kyushu's Last Hidden Spot," the park's natural features remain unspoiled. A large range of granite mountains known as "Hoko Peak," "Mt. Hiei," "Yahazu Peak," and "Mt. Mukabaki," surround Mt. Okue.
① Akebono Azalea.
Akebono Azalea fully bloom in early May.
② Ashibi Tunnel
Japanese Andromeda tree tunnel at Mt.Okue trail entrance.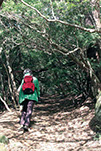 Landmarks/Tourist Spots
ETO Land Hayahi-no-Mine
This is a leisure facility situated near the summit of Hayahi Peaks (868m). Go-carts, a playground, accommodation and restaurants are available. There is also a solar power generation facility with the solar panels aligned in the shape of a flower.
Admission: Free Hours: 9:00am – 5:00pm
Closed: Tuesday (Wednesdays in the case of a holiday)
*Open: GW, 7/20 – 8/31, New Year's Day.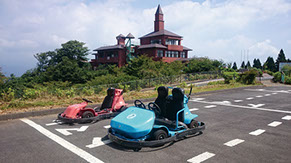 www.etoland.jp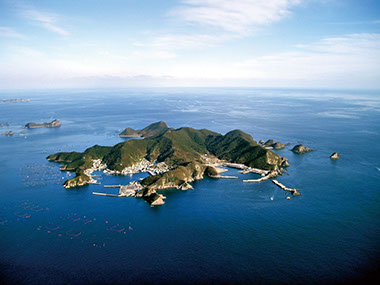 Shimanoura Island /Mt.Tonba's Mitsuba-Azalea
Mt.Tonba (186m) is situated on the island of Shimanoura Island, off the coast of Nobeoka City. In early May, hundreds of Mitsuba-Azalea bloom, turning the mountain into a beautiful shade of pink.
On a clear day, Shikoku Island is visible from the eastern point of the mountain!
20min by Ferry
10min by Fast Craft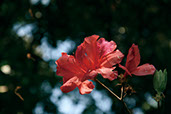 Mitsuba-Azalea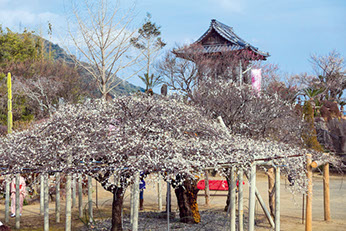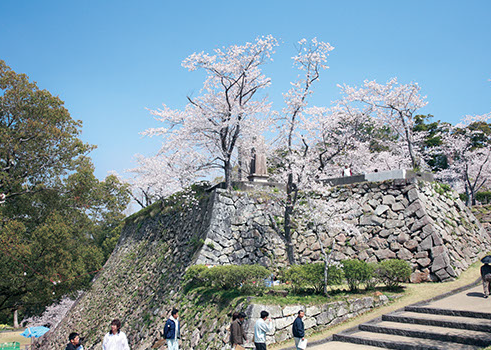 Enichibai at Honto Temple
Shiroyama Park, Nobeoka Castle Ruins
and the "Killer Stone Wall of a Thousand Invaders"
At the Temple, there is a 200 year-old weeping plum tree along with 50 white and 5 red plum trees. Together they are called "Enichibai." The plum blossom viewing season is in early February.
Shiroyama Park features the ruins of Nobeoka Castle, which was built in 1603. About 300 cherry trees bloom in the park every spring. One highlight is the "Killer Stone Wall of a Thousand Invaders." It is said, that this wall will collapse and kill 1,000 enemies if a stone from the foundation is removed.
Shiroyama North Main Gate
The gate, located on the north side of the Castle, was reconstructed in 1993.
Shiroyama Wild Camellia
Bloom from winter through spring
Over 3,300 wild camellia trees grow naturally. The park also has unique types of camellias called "Nobeoka" and "Bokusui."
Shiroyama Bell
The bell chimes six times per day.
The bell keepers have been ringing the bell and telling the time since 1878. The Shiroyama Bell Festival is held on June 10th every year.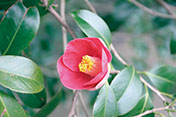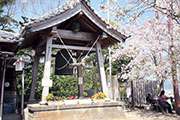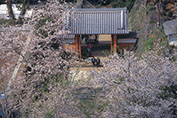 A million canola flowers
grow along Gokase River.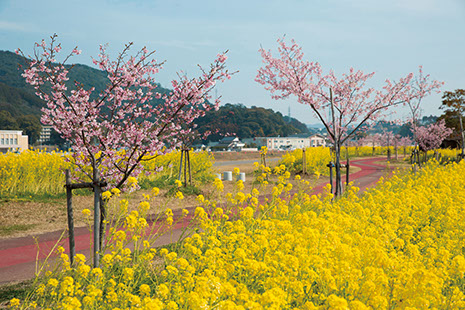 Millions of canola flowers and 300 Kawazu cherry blossoms align the Gokase River banks, bringing many tourists for viewing.
Cherry Blossom Season:
Early February – Mid-March
Canola Flower Season:
Early February – Early Ma
Nobeoka Flower Story "Kono Hana Walk"
Tengaichi Himuka Cherry and Canola Blossoms
In Nobeoka, you can experience spring a little bit early by participating in the Nobeoka Flower Story "Kono Hana Walk" event. In this event, people walk along the Kono Hana Road, which passes the famous plum trees of Honto Temple, the incredible cherry and canola blossoms along the banks of Gokase River, and the wild camellia of Shiroyama Park. You can enjoy performances by local artists, outdoor tea ceremonies, rickshaw rides, and browse local products during the Nobeoka Flower Story event.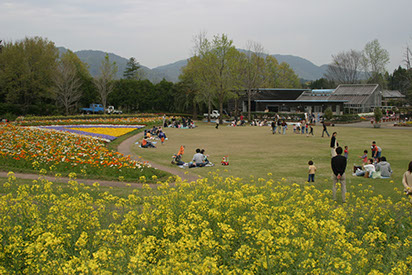 The Garden is an oasis to the people
of Nobeoka.
Nobeoka Botanical Garden
Flower Festival in Nobeoka
The garden offers a spacious grass lawn, athletic facilities and a walking path on which visitors can enjoy a variety of flowers throughout the year. The Flower Festival in Nobeoka is held in Spring.
Nobeoka Botanical Garden
Admission: Free Hours: 8:30am – 5:00pm