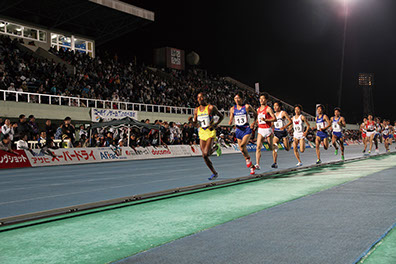 Nationally famous intermediate-distance track race
Runners compete to set new records!
This track race is held at the Nishishina Athletic Field in May. It is a battle among top athletes from around the world and Japan, including the members of the Asahi Chemical Company Track and Field Team which features many Olympic athletes.
This marathon, held each February, is officially recognized by the Japan Track and Field Association. The marathon starts and ends at the front of Nobeoka City Hall.
The handprints (and footprints for runners) of 41 Olympic and Paralympic athletes from Nobeoka are displayed in front of Nobeoka Station.
Sports Town Nobeoka
Golden games

Nobeoka Western Japan Marathon
Athletes Hand and
Footprint Monument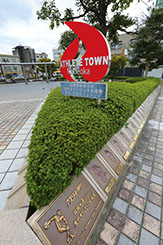 The Vegalta Sendai J-League professional soccer team conducts its Spring Camp in February at the Nishishina Athletic Field. Fans can watch scrimmages during the training camp.
Grand Sumo Azumaseki Stable holds its training camp in December. Each day spectators can come for free and watch training for Sumo, the national sport of Japan.