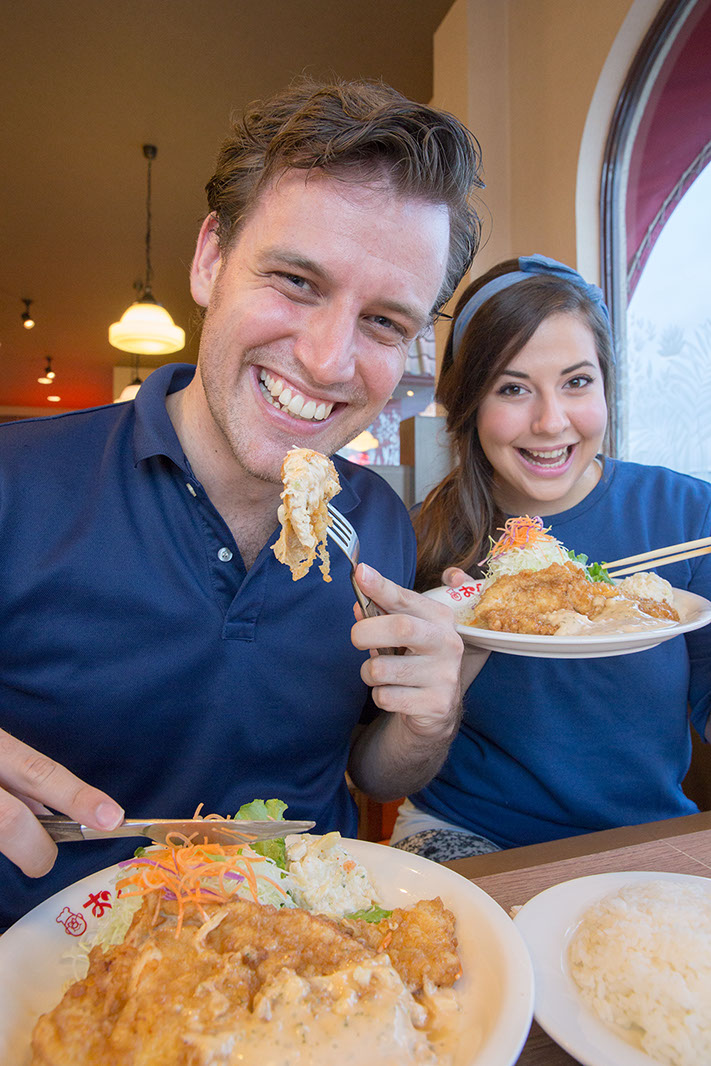 The birthplace of "Chicken Nanban"
Chicken nanban was invented in Nobeoka in the 1970s. In Nobeoka there are two different kinds: a more popular one using tartar sauce, and a second kind using sweet vinaigrette. Considered the soul food of Nobeoka, not only do bars offer Chicken nanban, but various other kinds of establishments like cafes and sushi restaurants develop their own original recipes.
Breast Fillet or Thigh Fillet ?
Nobeoka residents are divided into two groups: those who like the rich taste of breast fillet, and those who prefer the simpler taste of thigh fillet.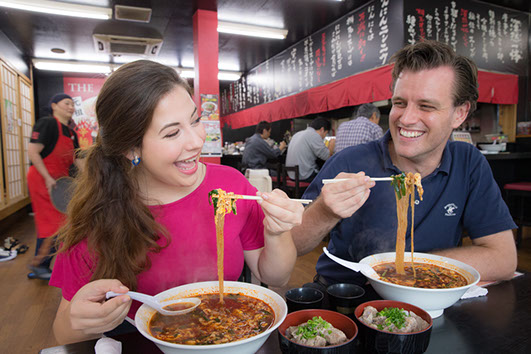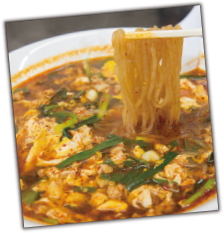 Nobeoka "Karamen" or "Spicy Noodles" is a soup made with a secret base. Chopped hot peppers, garlic, chives, and ground meat are mixed in, then an egg is added to make "Masumoto Karamen." One of the soup's main characteristics is its slightly chewy noodles, which are made with both soba and wheat flour. There are 25 levels of spice for you to choose from.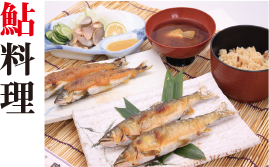 Eating Ayu while listening to the gentle sound of a river is a wonderful experience.
There are many traditional ways to prepare Ayu. You can grill it with salt or miso, or cook it up with some rice. Grilled Ayu with miso is a local specialty!
Spiny lobster from the Hyuga-nada Sea are famous nationwide.
September to mid-April is lobster catching season and many spiny lobsters can be found in ports all around Nobeoka. Spiny lobsters caught in Nobeoka are fresh and rich. The best way to prepare spiny lobster is to grill it with salt or eat it as sashimi.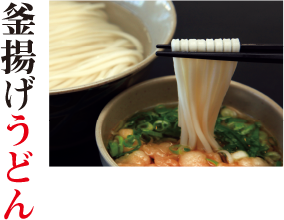 Nobeoka style is to prepare without deep frying the noodles!
You'll want to eat once each day!
"Nobeoka Ankake Yakisoba" is prepared by cooking the noodles in a frying pan after boiling and then served with a thick sauce. It is a very popular dish at local ramen shops and Chinese restaurants. The recipe goes back for more than 40 years.
"Min Min" is a hallmark restaurant.
People in Miyazaki love udon. A little softer noodle in sweet spicy sauce is the udon taste of Miyazaki. There are many udon shops in Nobeoka City.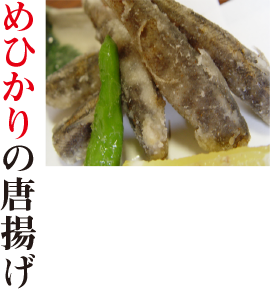 An exquisite taste that once you try you won't be able to stop!
You can enjoy the delicious taste of the entire fish
This fish cake is prepared in a very simple manner. The fish, taken from Hyuga-nada Sea, is minced (bones and all), then seasoned with salt and sake and then deep fried.
Mehikari is a deep-sea fish with shiny eyes that live in the depths of the Hyuga-nada (pacific ocean). It is a simple white meat fish that is deep-fried; it's common to eat the entire fish, including the bones.
Nobeoka Mitsukura Breweries
A variety of sake is proudly crafted using clear water from four streams in Nobeoka.
The world's
best micro-brewing method!
Miyazaki Hideji Beer
This beer is made using 100% malt and natural mineral water, but no heat processing. The brewery, which is situated at the foot of Mount Mukabaki, offers factory tours where you can see how the local beer is brewed in a beautiful natural setting.
(Reservations required)
Japan's Number One
"Sun Lager"
This lager has won two gold medals at major local beer contests in Japan. It is a premium golden lager crafted in the image of the bright sunshine for which Miyazaki is so well known.
Japan's first chestnut shochu
Sato Shochu Distillery
At this distillery only carefully selected ingredients, such as Houri river water, rice, sweet potato, barley, and chestnut, are used. The result is Sato Shochu's characteristic taste, which brings out the rich, natural flavors of the ingredients. Factory tours where you can see the process of shochu production are available.
(Reservations required)
Japan's First True Chestnut
Shochu, "Miyo no Matsu"
The first shochu made in Japan using chestnuts, this spirit is carefully crafted with Nobeoka produced chestnuts and the clear water of Houri River.
Representing the cultural
tradition of sake in southern Japan.
Sentoku Shuzo Brewery
Japan's southernmost brewery of sake, Sentoku Shuzo specializes in refined sake. They offer sake tasting at the "Hana Kagura" building, as well as tours of the distillery.
(Reservations required)
Southern Junmai Sake
"Sentoku"
This flavored junmai sake is carefully crafted using water from Gokase River and brings out the flavor of Takachiho produced "Yamada Nishiki" Rice.
Nobeoka Tourist Association
Hours: 9:00am - 5:00pm / Closed: Sat. Sun. and holidays
Address: Cocoretta NOBEOKA 2F,
2-125, Saiwai-machi, Nobeoka City
Hours: 7:30am - 6:30pm / Open year around
Address: JR Nobeoka Station
Copyright © Nobeoka Tourist Association All Rights Reserved.