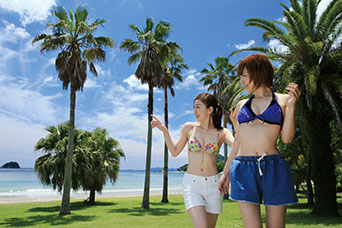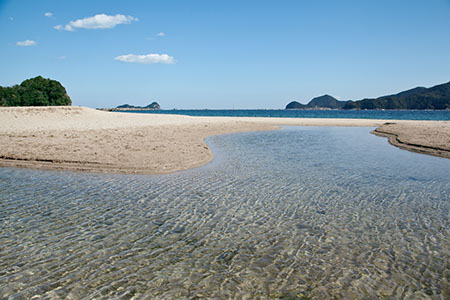 A leisure facility conveniently situated at Shimo Aso Beach.
Himuka Yu Park Umi Urara
Hamayuu Village
Shimo Aso Beach
Nippo Coast Quasi-National Park
Located off the Kitaura IC exit and the Sumie IC exit of the East Kyushu Expressway, the "Himuka Yu Park Umi Urara" is where you can find nature, fun, and good food. See you there!
In addition to camping facilities, tennis courts, and Park Golf, the Village includes the Michi-no-Eki Kitaura roadside rest area which sells local Kitaura products and the Kaisen-Kan seafood restaurant.
This beach is located in the middle of Nippou Coast Quasi-National Park. It features picturesque clear ocean water and white sandy beaches. Miyazaki's northernmost beach, it has been selected as the best swimming beach in Kyushu by the Ministry of Environmental Affairs.
Nippo Coast Quasi-National Park consists of a saw-toothed coastline that extends 120 kilometers from Saga no Seki Peninsula of Oita Prefecture to Mimitsu Coast of Miyazaki Prefecture. Swimming beaches and camping areas are available throughout.
Beach, Landmarks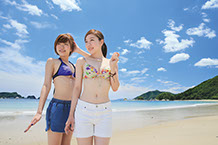 ① Michi- no-Eki "Kitaura"
Famous salty soft ice cream.
"Moon Salt" is a popular souvenir
This place sells seafood products from local fishermen. Salty soft ice cream made with "moon salt" is very popular.
② Salt Making
Using seawater from the Shimo Aso Beach, "moon salt" is made with great care by craftsman using a process that takes two days. "Moon Salt" is sold at the Michi-no-Eki Kitaura (Roadside rest area).
③ Restaurant Kaisenkan
Fresh seafood from the local fishing village. You can enjoy local fresh seafood while taking in breathtaking views of the coastline.
Hours: 11:00am – 8:00pm Closed: Mondays
(or Tuesdays in the case of a holiday)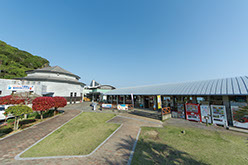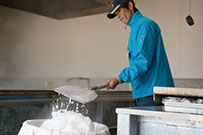 Small children are also welcome !

Sumie Family Resort Village
This Village is a leisure facility featuring Sumie Swimming Beach as well as Beach Forrest Sumie, which also has lodging and fun activities. There is also the Family Aquarium, all located at the Nippo Coast Quasi-National Park.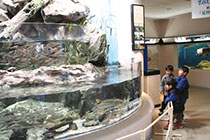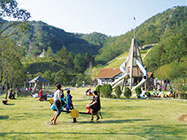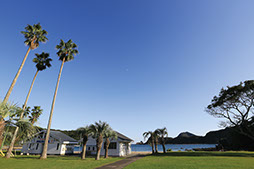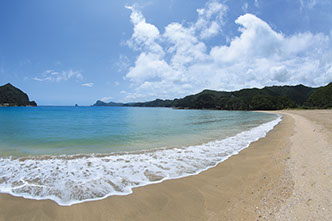 Secluded Spot!
Kumanoe Swimming Beach
Located at the Nippon Coast Quasi-National Park, this beach is loved by the local people and is 800 meters in length.
① Beach Forrest Sumie
Fun for the whole family: large slide, look-out point, grass skiing, tennis courts and BBQ facilities.
Admission: Free Hours: 9:00am- 5:00pm Closed: Wednesdays (in the case of a holiday the next day), 12/31, 1/1
②Sumie Family Aquarium
This Aquarium boasts 150 species of fish (approx. 800 fish in total), such as freshwater fish from the Gokase River and rare marine life from the Hyuga Sea. Akame (Robalo Fish) which are rare even in Japan can also be seen at this aquarium.
Admission: 300 yen for high school students and over, 200 yen for elementary and junior high school students.
Hours: 9:00am - 5:00pm Closed: Wednesdays (in the case of a holiday the next day), 12/31, 1/1
③Beachside Caravan Campsite and Cabins
■Caravan (7 sections)
Equipped with 100V power supply, bathroom and shower block and a cooking area. Rate: 3,240 yen per section Check-in: 3:00pm, Check-out 1:00pm
■Cabins (8 one-story cabins. 4 two-story cabins)
Rate: 8,640 yen up to 5 people.
Equipped with air conditioning,
bathroom, toilet, TV, kitchen, tableware and bedding for five people.
Jige Tea Plantation / Haraigawa Observation Point
The Jige Tea Plantation was selected as one of the "Best 100 Hometowns of Japan" for its spectacular scenery. The green colors of the tea fields contrast beautifully with the ocean blue in the early summer. At Haraigawa Observation Point, you can look out over the tea plantations and see Shikoku Island on a clear day.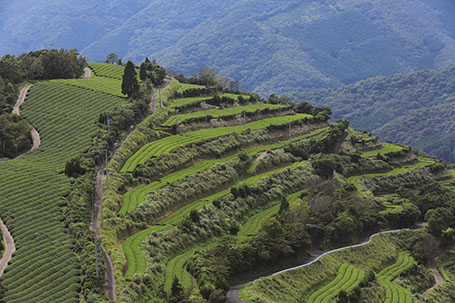 Beach and river activities
Nobeoka is a famous
scuba diving spot in Kyushu
enjoyed by divers
from all over Japan.
Thanks to the "kuro-shio" currents, the water in the southern section of Nippo Coast Quasi-National Park is warm and clear, making it the perfect habitat for many varieties of coral as well as tropical fish. It is also famous for underwater caves and colorful soft coral, and is one of the largest habitats of osuribachi coral in Japan, making it a top-class spot for scuba diving. If you wear a dry suit, you can enjoy this sea paradise any time of the year, even in the fall or winter!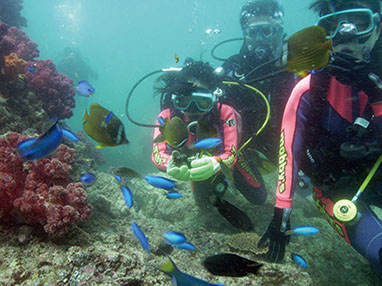 ① Marine Life
The ocean in Nobeoka is well known as a habitat for numerous species of fish. The popular frogfish and clownfish can be observed there.
② Japan's Best Osuribachi Coral
A massive stretch of osuribachi coral that is considered the best in Japan is situated off the coast of Shimano-ura Island.
Fun for everyone!
Snorkelers can enjoy the calm ocean at Urashiro Bay and observe over 100 kinds of natural coral around Shimano-ura Island. We recommend it to everyone, including first time snorkelers and children.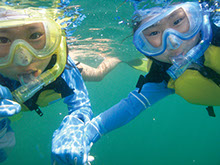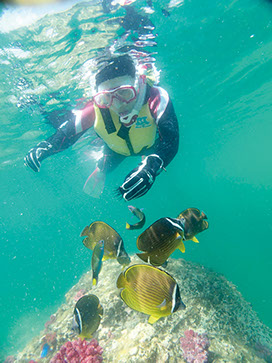 The rivers that emanate from Sobo-katamuki Quasi-National Park have abundant, high quality water, making them perfect for canoeing, swimming, or fishing.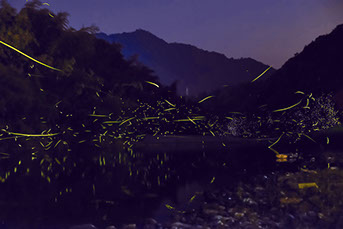 Watching fireflies from your canoe!
While riding on your canoe down a majestic Kitagawa tributary, you can view fireflies in Japan's largest habitat for Genji Fireflies.
Enjoy a fresh sea breeze!
Cruising
Take a guided ferry tour to the remote islands of Shimano-ura and Takashima. View impressive rock formations along the way while observing unique coral reefs with glass-bottom viewboxes.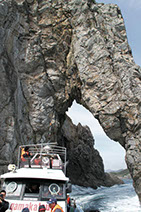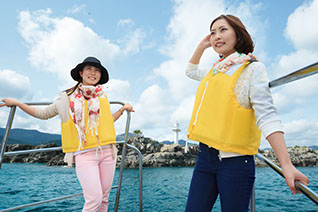 Pass through a massive stone arch on a boat!

ou can row your kayak at a leisurely pace while taking in the beautiful ocean and island scenery. It's the perfect water sport for beginners.
Beginners can learn from the pros!
Nobeoka is a popular surfing spot even among pro surfers. Surfers can ride either long boards or short boards; and beginners can take lessons from the pros.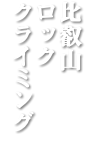 Any fishing enthusiast that loves fishing for Ayu must visit this spot.
The Gokase River system boasts Ayu over 30cm in length. When fishing season is open from June through December, fishermen from all over the country come to this spot to catch the best Ayu.
Mecca of rock climbing.
Mt. Hiei is considered a Mecca of rock climbing. An important feature is that climbers can choose a path that best suits their experience and skills.
Nobeoka Tourist Association
Hours: 9:00am - 5:00pm / Closed: Sat. Sun. and holidays
Address: Cocoretta NOBEOKA 2F,
2-125, Saiwai-machi, Nobeoka City
Hours: 7:30am - 6:30pm / Open year around
Address: JR Nobeoka Station
Copyright © Nobeoka Tourist Association All Rights Reserved.