Lock Monument
The Rendezvous Bell
Legend has it that a god and goddess of Japanese mythology named Ninigino Mikoto and Konohana Sakuyahime met and were married on Mount Atago. There is a monument at the summit to symbolize this myth, and it has become a popular date spot. Near the mountain summit there is an observation tower where you can enjoy a spectacular night view of Nobeoka City and the Hyuga-nada sea.
It is said that Ninigino Mikoto, the child of Amaterasu Omikami, Japan's patron Goddess, is entombed here. The tomb's authenticity is recognized by the Imperial Household Agency.
Couples come to Mount Atago to lock a padlock to this monument, which becomes a symbol of their devotion to one another.
"The Rendezvous Bell" is rung by a couple on a date. Also impressive is the "Path of light," which was paved with sparkling stones.
Nobeoka in Mythology
City lights at Mt.Atago
Ninigino Mikoto Tomb
(Eno Mountain Ridge)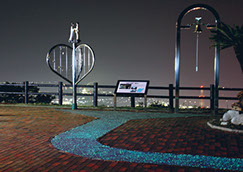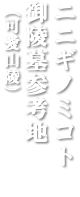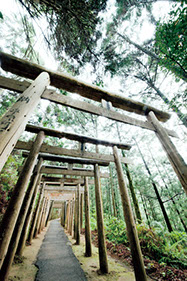 A unique characteristic of this location is the Torii Gates lined around the shrine. People came here to worship the Water God. It is said that the great grandchild of Tokugawa Ieyasu, Himuka Gozen, who was the wife of the lord of Nobeoka, also came to this Shrine to worship.
Mitarai Water Shrine

There is an ancient cavern formed by two huge rocks supporting each other on Mount Kamisan. One is 24 meters high, the other is 15 meters high. There is also a 2 meter tall triangular rock in the gap between the two. Due to its mysterious shape, it is known as a spiritual power spot.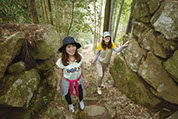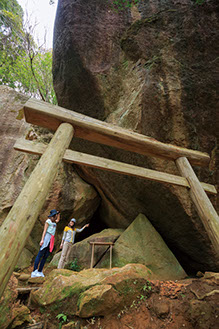 This shrine has many unique features including the peculiar face of the Komainu lion dogs, 300 year-old married cedars, and impressive sculptures in the main hall.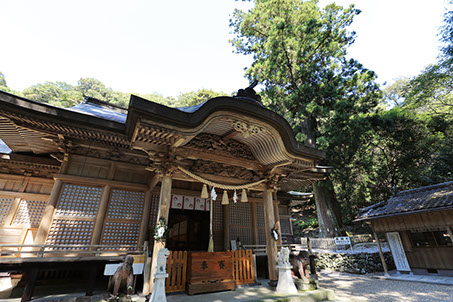 Nobeoka Tourist Association
Hours: 9:00am - 5:00pm / Closed: Sat. Sun. and holidays
Address: Cocoretta NOBEOKA 2F,
2-125, Saiwai-machi, Nobeoka City
Hours: 7:30am - 6:30pm / Open year around
Address: JR Nobeoka Station
Copyright © Nobeoka Tourist Association All Rights Reserved.