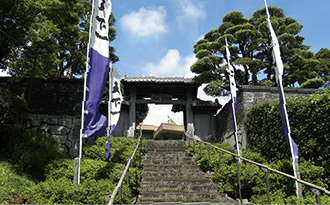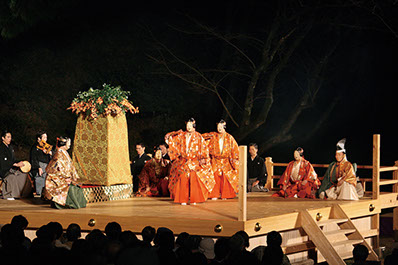 Noh artists perform with "The Killer of a Thousand Men" at their backs
Tengaichi Noh Masks
Bonsho "Bell of Shiroyama"
In October, Noh performers considered to be living national treasures of Japan perform in the outer courtyard of Nobeoka Castle's ruins, using "Tengaichi" Noh masks known to be carved by Japan's best Noh mask carvers hundreds of years ago and passed down through Nobeoka's previous feudal lords, the Naito family. This Noh play, performed in the light of several bonfires with a stone wall called "The Killer of a Thousand Men" in the background, draws the audience into a mysterious and profound world.
This hall was built at the ruins of the palace of the Naito family, the last lords of Nobeoka Castle. The hall houses a variety of artifacts from Nobeoka's history: Noh masks, calligraphy, paintings, and daily tools from the Taisho and Showa eras.
Admission: Free Hours: 9:00am - 5:00pm
Closed: Mondays, 12/29-1/3
66 Noh masks were donated to the Naito Memorial Hall by the Naito family, including 30 masterpieces by 6 artists who were bestowed the title of "Tengaichi," or "best in the world." This collection is considered extremely valuable all over Japan.
The "Bell of Shiroyama" was donated to Imayama hachi-man-gu Shrine in 1656 by Yasuzumi Arima, who was then lord of Nobeoka Castle. It was used from the 11th year of the Meiji era (1878) to the 32nd year of the Showa era (1957). It is also the oldest relic that refers to the city of "Nobeoka."
Culture, Festival
Nobeoka Tengaichi

Takigi Noh Theater
The Naito Memorial Hall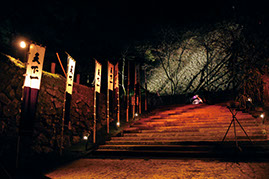 http://www.nobeoka-tengaichi.jp/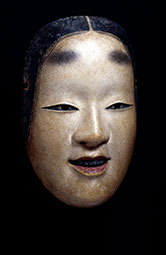 You can witness the authentic
Kagura Festival!
Island residents come together to celebrate as one.
The Festival is held in November at the ruins Nobeoka Castle. It features Kagura performances of all areas of Japan, including mountain and ocean. And some performances also invite audience participation.
This two-day festival is held under the moonlight in November. On the first night, an object of worship is offered at a "sacred place." The second night features a boat parade and Kenka(fighting) Mikoshi.
Shiroyama Kagura Festival
Shimanoura Grand Autumn Festival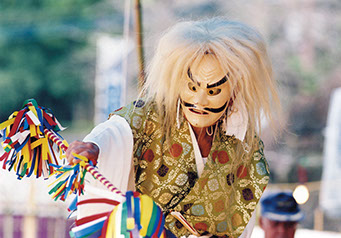 Saigo Takamori Encampment Museum
It is said that Saigo's men fled to Kitagawa during the decisive Wadagoe Battle and formed an encampment at this site. Some of Saigo Takamori's personal belongings and military items are exhibited here.
Fee: General admission: 200 yen,
Elementary and middle school student: 100 yen
Close:Monday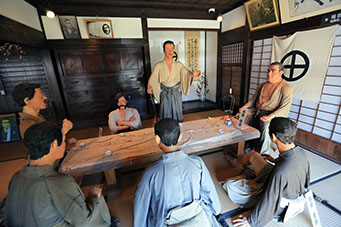 The Ayu fish trap is a traditional fishing method that catches fish as they swim downstream to lay their eggs. It controls the flow of water and guides Ayu fish into the "otesu" trap, which is made of bamboo. This method has been used for over 300 years and has become a signature autumn feature in Nobeoka. Measured by both scale and number of fish captured, this trap is the largest in Japan.
*Ayu Fish Trap season: October 1 through Early December.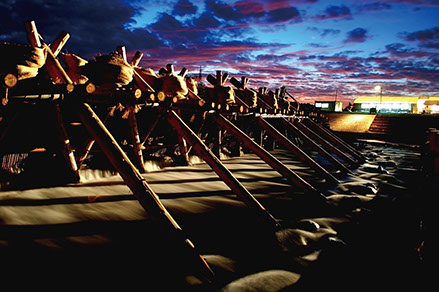 OchiAyu
Ayu fish which swim downstream to lay their eggs are called "Ochi Ayu".You can see people catching Ayu!
Longest fish trap in Japan!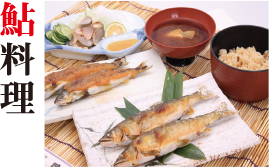 Gourmet Ayu
Eating Ayu while listening to the gentle sounds of a river is a wonderful experience. The grilling of Ayu along Gokase River was selected as one of Japan's "Top 100 Scenes" by the Ministry of Environmental Affairs.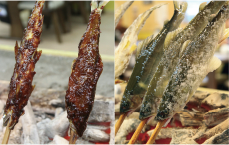 Spiny lobster from the Hyuga-nada Sea are famous nationwide.
September to mid-April is lobster catching season and many spiny lobsters can be found in ports all around Nobeoka. Spiny lobsters caught in Nobeoka are fresh and rich. The best way to prepare spiny lobster is to grill it with salt or eat it as sashimi.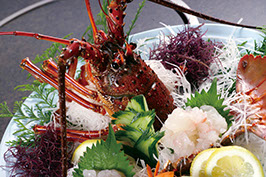 Eastern Kyushu Ise Ebi Sea Line,
Ise Ebi Festival
This festival is held for three months from September. Diners can enjoy fresh Ise Ebi at reasonable prices at restaurants along the road that connects Nobeoka City and Saiki City in Oita Prefecture.
You can dine on bounty from the sea grilled to perfection.
Fresh fish are loaded from nearby ports; and you can enjoy the exciting way it's charcoal grilled right in front of you.

Autumn Leaves at Shishigawa Valley
Beautiful, vivid autumn foliage!
This valley features magnificent combination of clear water stream and granite rocks. The scenery of water, rocks and autumn leaves is absolutely beautiful.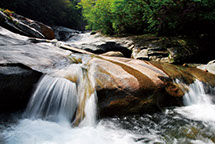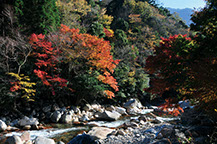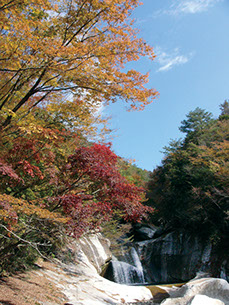 Nobeoka Tourist Association
Hours: 9:00am - 5:00pm / Closed: Sat. Sun. and holidays
Address: Cocoretta NOBEOKA 2F,
2-125, Saiwai-machi, Nobeoka City
Hours: 7:30am - 6:30pm / Open year around
Address: JR Nobeoka Station
Copyright © Nobeoka Tourist Association All Rights Reserved.